I'm a huge fan of Shutterfly (and I think my family is too) because we use their personalized cards so often -- my husband has one for his birthday and Father's Day, and all the grandparents had one for their birthdays! These cards are well-constructed and great for displaying pictures -- I know our cards are still displayed (all over the world) even though the events celebrated are now over! And I do appreciate the variety of designs and themes.
Previously I wrote about
Shutterfly's new Christmas card designs
and Shutterfly even graciously
offered cards for a review and giveaway
(sadly that's ended). I still have to design a few more cards, and I'm going to order a few in different themes -- I like variety! Here's a preview: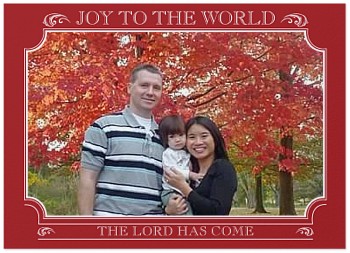 Lord Has Come Religious Christmas 5x7 folded card
Currently Shutterfly has Christmas cards discounted by 20%-30% as well as discount on some of their popular products. You can see all the
specials here.
***Bloggers: you might already be aware of this promotion.
Help us spread the word. Embed project and receive a $25 gift certificate. Here's how:
Embed your project on a blog or Web site you own. Email an active link (no screenshots, please) to the Web page containing your embedded project to: shareproject@shutterfly.com. We will confirm placement and reply to your email with a discount code.
Limit one per customer. See terms & conditions
.