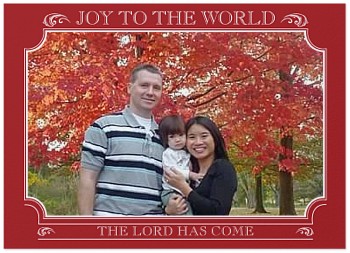 As I've been thinking about Christmas cards, I remembered a few other tips, to personalize Christmas cards, that I blogged about last year. Most of these can be both print and digital, with an exception -- you'll see!
How do you personalize?
1. Include photos taken all year long.
I usually tend to pick out those that show our best sides and ones that definitely are worth sharing, and it doesn't matter if they aren't professionally done but simply capture who we are! =)
2. Incorporate a short letter or update.
Unfortunately I only keep in contact with some people through Christmas cards -- perhaps this should be a New Year's Resolution, to be a better friend! But I do like to get everyone up-to-date with our family.
3. Print you own.
Often I can find excellent deals online. But I've also printed my own on both photo paper and also plain paper. I've used Microsoft templates before, but I've also cut and pasted to make my own!
4. Use digital services.
In years past, I've used Snapfish, Shutterfly, and Purple Trail and others; I believe you can also utilize services at Walgreens, Sams, and other retails stores too. But those are always fun, and you're sure to get a good product.
5. Write a short note to the recipient and sign the card.
Even with pre-printed cards, notes, or newsletters, I like to add that last bit of personalization by hand writing the recipient's name, adding a short postscript, and then signing my name. Just a small way to let them know that I took some time to reconnect and do send BEST wishes.
6. Create your own stamps!
I found a great deal last year and put a picture of our little one on the stamp! Needless to say, that was a HUGE hit with the family -- some even cut the stamp off to display too!
7. Make the background one of your child's artwork
You could scan one of your child's artwork and incorporate that into the background (or front and center) of your design.