Last night I told the little one I had a surprise for her in the bathroom, and she definitely was surprised and thrilled with her new Boon Bath Goods! Normally she would run past the bathroom door, but tonight the bright teal, vermilion, and olive foam appliqué caught her eyes, which changed her direction, straight to the tub! (If I accidentally leave the bathroom door open, she'll dart into the bathroom and try to climb into the tub to get the bath toys!)
This was actually my first introduction to Boon products, and the quality is amazing, for simple things like bath toys! The bath toys were well-constructed; the foam withstood some gnawing, and I was surprised even with the sturdiness of the plastic balls. My little one enjoyed taking the appliqué on and off the tub wall! Obviously the fun, bright colors and fun shapes appeal to both kids and parents! The contemporary designs bring a unique twist to children's products too!
We also received the Groovy plate; I've been quite interested in seeing how well my little one can
handle her utensils
, after the pediatrician informed me that she should be -- you can read the whole story
here
! Again, the Groovy plate exceeded my expectations. The dividers were really nice in separating various foods, and the little dippers were just plain fun! I also really appreciated the non-skid base because it did(along with the slightly heavier weight of the plate) deter my little one from picking up the plate.
Boon is definitely a company for moms wanting quality and fun products for their little ones. Did you know that Boon also donates 10% to charities specifically benefiting children in need; you can read more about it
here
. And to keep up with the latest, you can follow the
Boon New Blog
, be a
fan on Facebook
, or
follow on Twitter
.
A bloggy friend of mine is hosting a
giveaway for a Boon Flair High Chair
! Hop over and take a look!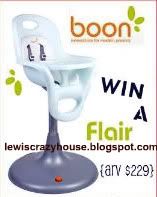 ****This is not a paid post. The opinions are solely my own and may vary from others. Thank you to Boon Inc. who supplied the products for the review!****